New DVD Beauty and the Beet In Stores NOW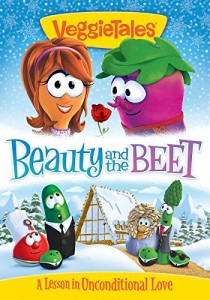 The Veggies are at it again, bringing us a creative and hilarious Veggie-version of this classic fairytale. Beauty and the Beet, the newest VeggieTales DVD is now available on Amazon.
Meet the Veggietones, an up-and-coming traveling family band with Lead singer, Mirabelle (Kellie Pickler), her pea-brothers on the drums, guitar and base, and her harmonizing sisters, Katrina and Sabrina. This great cast of new characters, along with our much-loved favorites, will win your hearts as they teach powerful lessons about unconditional love through their catchy songs and unexpected encounters.
After a great performance in a small venue, Larry Dill (Larry the Cucumber), father and manager, excitedly announces their next gig and big break at Vegetable Square Garden, if they can just make it there on time.
But a fierce winter snowstorm strands the family at a run-down resort with no way out until the passes thaw! And the grumpy owner Mr. Beet makes the family work off their bill. Soon their singing, and their hard-work, win the hearts of the hotel staff, but can anything reach this beastly Mr. Beet?
But even if he never changes, Mirabelle shows us how powerful unconditional love can really be. "We don't love to get something in return, or to get love back. We love because God loves us all, whether we deserve it or not. We are made to love one another." (Mirebelle, Beauty and the Beet)
Check out this hilarious and heartwarming tale of unconditional love! And be reminded that "no matter how others act toward us, God wants us to show love to everyone, always." (Bob the Tomato, Beauty and the Beet).
This show also includes the all-new Silly Song, "Mac and Cheese".
Watch the trailer now!