Sneak Peak at New Veggie DVD Celery Night Fever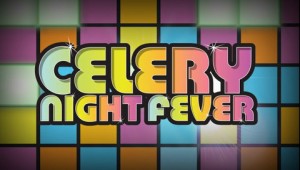 Big Idea has a totally groovy new story in production that will get you moving in your seat. Take a sneak peak at some of the characters and art work from this upcoming DVD.
When Bruce Onion, a real estate tycoon, comes to town, he's got great plans tear down the old, run-down Celery Park to make way for a parking lot.
But this park was once a center of community for the town. The kids pull together to restore the park but need something big to draw the attention and help from the town — a reunion concert!
Can a little girl bring about the long awaited reunion of The Groovy Brothers? And can these estranged band members and long-lost friends learn the power of forgiveness?
With seven all-new songs and a chance at a Groovy Brothers reunion, Celery Night Fever will inspire your boogie-est dance moves, and leave you coming back for more. Celery Night Fever is scheduled for release this summer.
Stay tuned to UltimateVeggie for all the latest Veggie news!