Merry Larry and the True Light of Christmas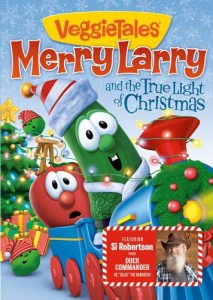 Release Date:
October 22, 2013
Larry The Cucumber stars as "Merry Larry", an enthusiastic employee of the Spring Valley Mall who serves as "Head Elf" during the Christmas season. Each day he hears countless children's requests for what they'd like under their Christmas trees. But one little girl's request catches his attention – Little Christina just wants to help her friend, Mrs. Crespie, who lost her house in a fire, get a new house for Christmas!
Merry Larry sets off on a caper to create the biggest light show EVER to bring attention to Mrs. Crespie's situation. Meanwhile, the mall manager, Philip Fleagle (Bob the Tomato) finds he has NO lights and no head elf for the mall's spectacular Christmas display – right on the day the owner of the mall is supposed to visit!
Will Philip realize what the "true light of Christmas" is really all about and help Merry Larry rally the community to get Mrs. Crespie's in a home by Christmas? Find out in this all new VeggieTales story where kids learn that "Christmas shines most bright and true, when you give the love God gave to you."
Silly Song