VeggieTales Live! Sing Yourself Silly
A Lesson In Sharing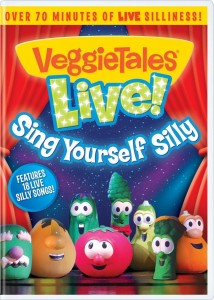 Bob, Larry & the whole crew are taking to the stage with the silliest Silly Song Countdown ever! This high energy song and dance spectacular takes silliness to a whole new level!
But sometimes silliness just isn't enough!Archibald Asparagus prefers songs that have lessons, Mr. Lunt only wants to sing about food, and Jimmy and Jerry Gourd are stuck in the 80s! But there's only so much time..
Will the Veggies learn the importance of sharing so that the show can go on and everyone will be able to sing themselves silly?
Songs
VeggieTales Theme Song
The Water Buffalo Song
Big Things Too
Gourds Just Wanna Have Fun
Song of the Cebu
Dance of the Cucumber
God is Bigger
His Cheeseburger
Love My Lips
The Pirates Who Don't Do Anything
Do the Moo Shoo
Rumor Weed
Endangered Love (Barbara Manatee)
Bellybutton
Footloose
The Hairbrush Song
I Can Be Your Friend
VeggieTales Theme Song (reprise)