Abe and the Amazing Promise
A Lesson In Patience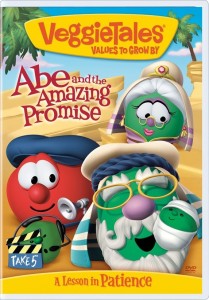 Release Date:
February 2009
Learn the story of Abraham and Sarah as they wait … and wait … and wait … for a promised child. Kids will learn God always keeps His promises, even if we have to wait awhile! Special appearance by our favorite radio host "Delilah," performing the voice of Sarah!
Junior Asparagus is anxious for the new show production to be finished. Bob the Tomato responds to a fan's letter about "waiting" by directing a Bible-times interview with Abraham, Sarah and their promised son. Bob and Junior's patience is tested by splitting camels, a confused nurse, an easily distracted film crew, and a host of other laughable filming disasters!
Also includes "Blunders in Boo-Boo-Ville," where Larry the Cucumber attempts to invent a way to bring back the boo-boo birds and discovers that taking time to do things the right way is the best way!
Bible Verse
And so after waiting patiently, Abraham received what was promised. Hebrews 6:15 Enthusiasm without knowledge is no good; haste makes mistakes. Proverbs 19:2
Stories
Abe and the Amazing Promise
Blunders in Boo-Boo-Ville
Silly Song
Songs
Father Abraham
We Love It In Ur!
Right, Right Now!
By Working Patiently, Something Something Something ...
Hum, Ding, Purr, Whee!
Willing To Wait
Willing To Wait Reprise