Beauty and the Beet
A Lesson In A Lesson in Unconditional Love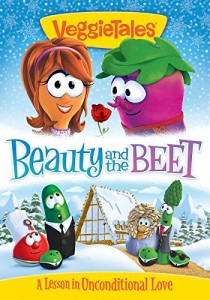 Release Date:
October 14, 2014
Do you think you know the story Beauty and the Beast? Think again, because you've never seen it Veggie-style. Join Bob and Larry for this all new musical, Beauty and the Beet.
Meet the Veggietones, a traveling family band — Lead singer Mirabelle (Kellie Pickler), her pea-brothers on the drums, guitar and base, and her harmonizing sisters, Katrina and Sabrina. This great cast of new characters, along with our much-loved favorites, will win your hearts as they teach powerful lessons through their catchy songs and unexpected encounters.
The up-and-coming Veggietones are hurrying to Vegetable Square Garden for their next gig that they hope will be their big break. But a winter blizzard strands the family in a dilapidated resort run by the grumpy manager, Mr. Beet. As they are forced to sing – and clean – to cover their bill, they soon win over the hearts of the hotel staff, but can anything reach this beastly Mr. Beet?
But even if he never changes, Mirabelle shows us how powerful unconditional love can really be. "We don't love to get something in return, or to get love back. We love because God loves us all, whether we deserve it or not. We are made to love one another." (Mirebelle)
Check out this hilarious and heartwarming tale of unconditional love! And be reminded that "no matter how others act toward us, God wants us to show love to everyone, always." (Bob the Tomato).
Bible Verse
Dear friends, since God so loved us, we also ought to love one another. (I John 4:11)
Stories
Silly Song
Songs
Show You Love
The Person God Wants Me to Be
Now That You're Gone
Liebestraum
If This Were My Home
La, La, Laa
Five Servings of You
Love is the Song Ballad
Love is the Song Finale
Deck the Halls