If I Sang A Silly Song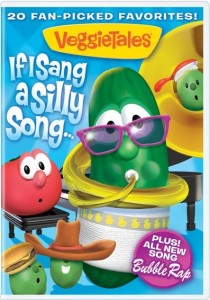 Release Date:
February 2012
Coming soon on February 7, 2012.
Now  you can enjoy two decades of silly song all on one DVD. It's a Silly Song Telethon!  Larry hosts the biggest, the silliest, most excellent countdown of Silly Songs in the history of Silliness!
This all new collection includes 20 fan-picked favorites and a new song chosen from among thousands of fan submitted ideas. Your kids can join the singing fun with karaoke versions! And find out the #1 fan-voted silly songs from the last 20 years!
Songs
I Love My Lips
The Pirates Who Don't Do Anything
Belly Button
His Cheeseburger
Endangered Love
The Water Buffalo Song
The Song of the Cebu
Dance of the Cucumber
Yodeling Veterinarian of the Alps
Monkey
The Hairbrush Song
Biscuit of Zazzamarandabo
The SUV Song
Lance the Turtle
Gated Community
Where Have All The Staplers Gone?
Sippy Cup
Pants
Pizza Angel
Goodnight Junior