Silly Little Thing Called Love
A Lesson In True Love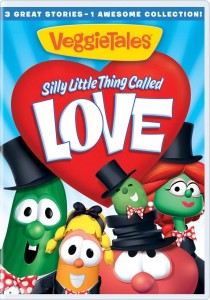 Release Date:
January 2010
Join Bob, Larry and all your VeggieTales pals for a Silly Little Thing Called Love! Featuring three classic stories of "true" love with lessons in Loving Your Neighbor (The Story of Flibber-O-Loo), Loving Your Family (Duke and the Great Pie War) and Loving God (Madame Blueberry)!
The Story of Filbber-O-Loo – The story of the Good Samaritan is brought to life in this delightful adaptation. Children learn that loving your neighbor means helping those in need … even if they don't live next door!
Duke and the Great Pie War – Meet sweet Princess Petunia as the Veggie friends go medieval in this timeless story of love, courage, and flying pies! This prequel to King George and the Ducky is based on the biblical story of Ruth and Naomi. Filled with "serf" music, hurling catapults of slime and loads of silliness, Duke and the Great Pie War delivers a royal lesson in loving your family!
Madame Blueberry – Meet Madame Blueberry as she learns a lesson in thankfulness. Madame Blueberry is the story of a very blue berry. Why so blue? Because she wants more stuff! Join Madame Blueberry as she learns that "being greedy makes you grumpy — but a thankful heart is a happy heart!"
Stories
The Story of Flibber-O-Loo
Duke and the Great Pie War
Madame Blueberry