The Little House That Stood
A Lesson In Making Good Choices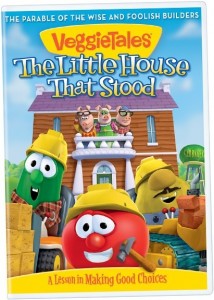 Release Date:
March 5, 2013
The three little pigs have just moved to Cabbageville and need a new place to live. As the local builders of Cabbageville present the piggies with plans for their new home, only one builder is followed the wise plans from the "Master Builder's Handbook!"
Will the piggies make the right choice for their houses and choose the one built on a firm foundation? This hilarious parable reminds us that God's blueprints for our lives allow us to stand strong in life's storms.
Also included is the story of "The Good Egg of Gooseville", where we meet Mayor Humpty, Little Bo Peep and all the loved storybook characters. Together they learn how to be a good neighbors and lend a helping hand to those in need.
Stories
The Little House That Stood
The Good Egg of Gooseville
Silly Song
Didn't find any related posts :(